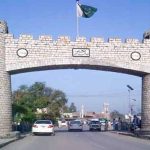 RIYADH: Huthi rebels in Yemen fired a "projectile" at the southwestern Saudi province of Jazan killing three civilians Saturday, the Saudi-led coalition fighting the insurgents said.
"The terrorist militia has targeted civilians with a projectile" killing three civilians in Jazan, coalition spokesman Colonel Turki al-Maliki said.
Malki, quoted by the official Saudi Press Agency, did not identify the type of "projectile" but said it was "launched deliberately to target civilians" and warned of retaliation.
"The Joint Forces Command of the coalition will strike with an iron fist all those who threaten the safety and security of Saudi nationals, residents and critical capabilities" he said.
The Huthi rebels have ramped up missile attacks against neighbouring Saudi Arabia, which leads a military coalition that has fought the insurgents since 2015.
On Tuesday, Saudi air defences intercepted a ballistic missile that targeted the western city of Yanbu after being fired from rebel-held territory in Yemen.