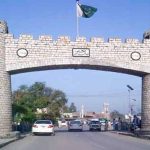 ISLAMABAD: Chief Justice of Pakistan (CJP), Justice Saqib Nisar has said that his meeting with Prime Minister Shahid Khaqan Abbasi would bear fruit and remarked that several matters will progress rapidly after the meeting.
These remarks were made by the CJP while he was hearing a case related to theft of medicines and injections from hospitals.
During the hearing, additional Attorney General told the court that a summary related to the appointment of heads of hospital under PIMS and federation will be resent to the cabinet.
He informed that court that its directives were being implemented swiftly.
To this, the CJP remarked, "In Sha Allah no summary will now be halted. We will let the government work".
He also expressed wish to appoint a doctor as secretary health saying that only a doctor should supervise the administrative matters of hospitals.
"Let the government work, we will see afterwards whether they have appointed the right people or not. If no development took place, we will ourselves assign the right person. Then the permanent appointment will be done by the government," remarked CJP.