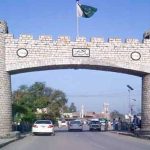 Pakistan and the people of Jammu and Kashmir are observing 'Youm-e-Istehsal' today, on August 5, 2019, the Indian government illegally annexed occupied Kashmir into two union territories by revoking Article 370 of its constitution.
The main intent behind the move is to expose Indian atrocities and show solidarity with the people of occupied Kashmir. Today (Wednesday), Prime Minister Imran Khan is expected to visit Muzaffarabad to mark Youm-e-Istehsal.
Anti-India protests are planned throughout Pakistan, particularly in Azad Kashmir, while all major cities in Pakistan will hold solidarity marches, along with a one-minute silence.
Meanwhile, Indian officials announced a two-day "full curfew" on Monday citing intelligence reports of looming protests in the Muslim-majority region of seven million people, where locals have called for the anniversary to be marked as a "black day".
Fearing a massive reaction from the Kashmiris, New Delhi imposed the curfew on Tuesday in occupied Kashmir, blocking main roads throughout the valley with barbed wires and steel barricades.
The Modi-led government revoked Article 370 last year on this day, promising economic prosperity and progress after more than three decades of violence that has seen thousands die in the disputed region.