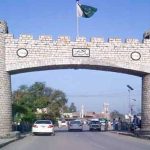 PESHAWAR: Provincial Minister for Information Shaukat Ali Yousafzai on Friday said the opposition leaders showed media only those spots where tree plantation campaign had failed.
"Fines were imposed on failure and corruption in billion tree project," Shaukat Ali Yousafzai said while addressing a press conference regarding the Tsunami Billion Tree Project.
He said those who were fined took the opposition leaders to the places where tree plantation campaign was not carried out.
The provincial minister said tree plantation was successful on 3200 enclosures and 4500 sites. The billion tree tsunami project has been lauded at international level, he said.
Yousafzai said in deposed prime minister Nawaz Sharif's tenure the Pakistan Space and Upper Atmosphere Research Commission (SUPARCO) had termed the project as successful.
He said some people wanted to make the billion tree project unsuccessful.
On March 14, Finance Minister Asad Umar had launched spring tree plantation campaign in Islamabad.
Expressing his views on the occasion, the minister had said Pakistan was ranked amongst the countries vulnerable to climate change.
"Tree plantation is important to protect the environment from degradation", he had continued.
Asad Umar had vowed that one million saplings will be planted in the federal capital during the spring tree plantation campaign.