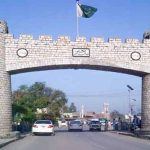 LAHORE: Jamaat-e-Islami (JI) Pakistan Ameer, Senator Sirajul Haq Sunday said that unemployment amongst youths present due to corrupt leadership of the country. He said nationals will get free medical facilities if JI provided chance.
Sirajul Haq while addressing JI anti-corruption march in Lahore said burden of debts were increased due to corrupt rulers of the country. He added few families seized rulership and democracy in Pakistan.
The JI Ameer said youths have passion to build Pakistan whom should be given their basic rights.