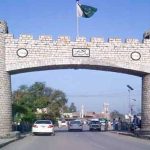 LAHORE: Jamhoori Watan Party (JWP) leader Shah Zain Bughti said that Federal should correct its attitude,saying it are ready to move for country after forgetting past. I would talk for returning Bughti refugees from Prime Minister.
While addressing from event in Lahore Shah Zain has said that credit for maintaining law and order situation betterment goes to Commander Southern Command adding that even when lcoal people wouldn't go side by side issue of Balochistan could not be resolved,. He said Federal should change its attitude and we are to move ahead for country of forgetting past saying it no planning had made for returning Bughti refugees.
Shah Zain said that We would disseminate JWP network across the country saying that nationwide including Punjab Party's representative to be occurred. Standing with public and to move back is not our nature, he added. He further stated that if external hands are involved in Balochistan so the evidence to be brought forward, adding that before Musharraf-operation Balochistan was most peaceful area across country saying it malfunction in province was reaction of Musharraf operation.
Baramdagh Bughti has offered for dialogue in which of response dialogue offering by Government is just fun.