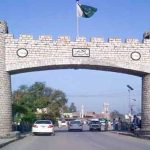 KASUR: Jamaat-i-Islami (JI) Chief Siraj-ul-Haq has questioned performance of Punjab government in Zainab's case – a seven-year old girl who was brutally raped and murdered in Kasur.
In his address to the protesters, Siraj-ul-Haq asked as to why the government did not take action when Zainab went missing.
He added that Punjab Chief Minister (CM) Shehbaz Sharif should answer over the murder of seven-year-old Zainab.
The JI chief said that the city had been made the center of violence.
He also asked the city leadership to tender resignation citing that they had lost the right to represent people.
JI chief insisted that not only the culprit but the DPO should also be hanged publicly.