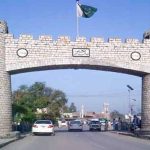 LAHORE: Imran Ali should be hanged in public, says the father of Zainab Ansari, a young girl raped and murdered in Kasur. He submitted a petition to the Supreme Court's Lahore Registry on Saturday, asking for Imran Ali's public execution.
An ATC issued a black warrant for Ali on October 12. He will be hanged at the Kot Lakhpat Jail on October 17.
But Zainab's father wants the execution to be done in public to discourage other offenders.
Related: Zainab's murderer Imran Ali to be hanged on October 17
Speaking to the media outside the court, he appealed to the people to raise their voices to get Ali hanged in public.
On February 17, the court had sentenced Ali to death on four counts. He was awarded a life imprisonment for sodomy and another penalty was for concealing the young girl's body in a trash heap. The death sentence was for kidnapping, rape, murder and one for committing an act of terrorism.