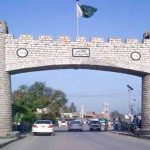 LAHORE: An anti-terrorism court (ATC) on Friday issued death warrants for convict Imran Ali who has been awarded capital punishment for raping and murdering Kasur's little Zainab.
The convict will be sent to the gallows on October 17, the ATC judge ruled.
Death row prisoner Imran Ali was handed four counts of death penalty, one life term, a 7-year jail term and Rs4.1 million in fines in the Zainab rape and murder case.
In August, an anti-terrorism court found Imran guilty of raping and murdering two more girls and awarded him a total of five counts of death penalty as well as Rs5.75million in fines.
Zainab, who went missing on January 4 from Kasur's Kot Road area, was found raped, dead and buried in a trash heap in Kasur on January 9, this year.
Her autopsy report suggested that the minor was sexually assaulted before being strangulated to death.
On January 21, the Supreme Court gave three days' time to a joint investigation team formed to probe the rape and murder of Zainab to track down the culprit.
The JIT arrested the culprit named Imran Arshad on January 23 after the DNA proved that he was behind the rape and murder of Zainab and at least seven other girls from Kasur.