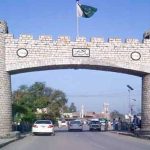 KABUL: US President Donald Trump's top negotiator for Afghanistan, Zalmay Khalilzad is in Kabul to brief Afghan president on peace efforts on his first trip back since Trump ended talks with Taliban.
An official in Afghan President Office in Kabul said Khalilzad will report to President Ghani on his recent visits and meetings in some countries regarding Afghan peace process.
Khalilzad had been pressing Taliban to declare a ceasefire with Afghan government forces and make a commitment to power-sharing talks.
But, the Taliban say they would follow a deal on the withdrawal of all foreign forces.