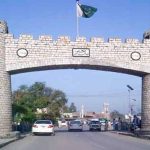 PESHAWAR: The owner of the Peshawar Zalmi Javed Afridi has announced to dedicate the Pakistan Super League (PSL) winning trophy to his late father and the martyrs of Army Public School (APS) Peshawar.
In his twitter posts, Javed Afridi announced to bring the PSL trophy to APS, Peshawar which was attacked by Tehreek-e-Taliban Pakistan militants on December 16, 2014. "I dedicate Zalmi's victory to my late father who supported me for this cricket cause and APS Peshawar," tweeted Javed Afridi adding as per his promise, he will bring this trophy to APS Peshawar.
In another tweet, he congratulated Peshawar Zalmi and whole Pakistan. It's a win of a whole Nation, he said. Special thanks to Darren Sammy and others foreign players for coming to Pakistan, he said in his tweet.
At least 152 people, mostly students, were killed in the deadly APS attack.