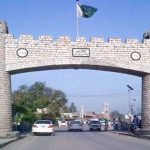 ISLAMABAD: Condemning the arrest of a Pakistan Peoples Party (PPP) candidate from South Waziristan, former President Asif Ali Zardari termed it beginning of pre-poll rigging.
Talking to journalists, Zardari demanded of the Election Commission of Pakistan (ECP) to ensure early release of Imran Wazir, the PPP's election candidate, and said that the arrest put a question mark on the credibility of ECP and transparency in the upcoming election.
He said that detentions cannot demoralize the PPP's supporters.
On May 6, the ECP had announced to hold elections on 16 seats of Khyber Pakhtunkhwa Assembly in the tribal district on July 2 but later the commission postponed polls in the merged districts for 18 days. Now, elections on the 16 seats in the tribal districts would be held on July 20.
Earlier on May 9, Pakistan People's Party (PPP) had decided to take active part in the upcoming elections in the tribal districts of Khyber Pakhtunkhwa.
In this regard, the party leadership had started to chalk out a comprehensive strategy.
This was decided during a meeting in Islamabad which was jointly headed by by PPP chairman Bilawal Bhutto Zardari and co-chairman Asif Ali Zardari.