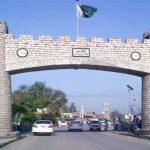 PESHAWAR: PPP Co-chairman Asif Ali Zardari said on Saturday the rulers want to capture the province of Khyber Pakhtunkhwa (KP) for their own good, adding that the condition of Pakistan would only improve if condition of the poor improved.
He showed signs of going to court if the upcoming elections were not kept free and fair. While addressing the problems faced by people associated with agriculture, he said the agricultural labourers and landlords were finding it difficult to even get gunny sacks.
The former President of Pakistan urged good relations with neighbouring countries. He said that the present government was buying four times expensive gas and not ready to acquire the cheap energy resource from the neighbouring country.
Shedding light on stumbling foreign affairs, he criticised the government saying it was unable to control issues on the three borders, claiming that there were lesser problems in Kashmir during his time.
Zardari was welcomed in Peshawar by the Pakistan Peoples Party (PPP) workers with loud slogans as he appeared to address a press conference which was held in Humayun Khan's residence.
While complaining about the federal government and their priorities regarding infrastructural development, he said that PML-N was reconstructing roads by spending Rs 20 million. He suggested that the same money could be used for the prosperity of Federally Administered Tribal Areas (FATA).
He told the initial visit to Peshawar was merely of three days which had to extend upon arrival.