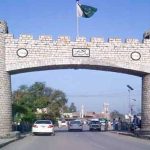 RAWALPINDI: Former president Asif Zardari was shifted to Adiala jail after his medical tests at Pakistan Institute of Medical Sciences (PIMS) on Friday.
He was brought to jail in an armoured vehicle amid tight security.
Asif Zardari was sent to PIMS for treatment. He was kept in hospital amid tight security. All passages to OPD were closed, causing numerous problems for the people going towards ICU and the operation theatre.
The security officers did not allow Aseefa Bhuttto to meet her father at PIMS.
In a tweet, Aseefa Bhutto said: "I went to see my father today, with a court order in hand. Hospital doors were locked when they saw me, no patients allowed in or out. What authority does this selective government have to shut down the entire hospital and deny patients and citizens entry?"
She said that finally she managed to enter the hospital only to find police blocking stairs and elevators. "I waited for my father at the elevators when police decided to form a chain to stop me for seeing him. Stopped, pushed and manhandled by police. Is this Madina ki riyasat?"
Later addressing a press conference, Aseefa Bhutto said that they came to know through the media that her father had been shifted to jail. "The selected government will be responsible if anything happened to my father," she said.
She said that according to reports, her father needed treatment. "We demand that my father should be shifted to hospital," she said.
Former prime minister Raja Pervaiz Ashraf said that Zardari's shifting to jail is a serious matter. "Medical treatment is the basic right of Asif Zardari. Aseefa Bhutto was not allowed to meet her father," he said.