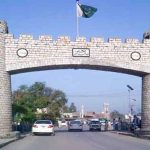 MARDAN: Former president and Co-Chairman Pakistan Peoples Party (PPP) Asif Ali Zardari on Monday vowed that he would continue to struggle for Fata merger with Khyber Pakhtunkhwa.
While addressing public rally in Mardan, Asif Zardari said that PPP is the party of poor people. He said that PPP during its regime has provided employment opportunities to poor people. He said that they waved Pakistan's flag in Swat when militants had occupied the valley.
Zardari said that the government had 'stolen the CPEC project from Khyber Pakhtunkhawa', claiming to take it back and hand over to Pakhtuns. He said that before him nobody even dared to think of giving identity to Pakhtuns.
Zardari said that even Supreme Court judges have told Prime Minister Nawaz Sharif – 'Go Nawaz Go.' He said a senior Supreme Court judge, who will be future Chief Justice, has ruled that Nawaz Sharif be disqualified. "Had Nawaz Sharif read the book referred by Justice Asif Khosa in his verdict, PML-N would not have distributed sweets," he remarked.
He noted that PTI had also distributed sweets after the Panama verdict. "What kind of verdict is this as both PML-N and PTI are distributing sweets," he questioned.
The former President also took a dig at Imran Khan. "He calls himself a leader of the youth. How can he be a leader of the youth? He is older than me. Bilawal is a leader for the young people," he said, referring to his son and PPP chairman.
The PPP leader also dismissed the notion that Khan was a true Pathan. "A captain has come… He thinks he is a Pakhtun. He writes Khan after his name. No one knows him here," he told the crowd in Mardan.
"He calls himself a Pathan, but for that first you need to speak Pashto," he added.