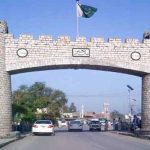 ISLAMABAD: The accountability court on Tuesday extended remand of Asif Zardari till July 15 in fake account and Park Lane default cases.
The NAB presented the former president before the accountability court to seek extension in the remand.
The Park Lane default case against Asif Zardari is related to purchase of 2460 kanals of prime land in Islamabad.
According to reports, the land valued at a CDA price of over Rs2 billion was purchased at just Rs62 million through Park Lane Estate Pvt Ltd,a private company owned by Asif Zardri and his son Bilawal Bhutto Zardari.
According to private news channel, when the PPP leader was asked by reporters to comment on the arrest of Rana Sanaullah he said it was injustice.
The PML-N leader was taken into custody on Monday by the Anti-Narcotics Force (ANF) for possession of drugs.