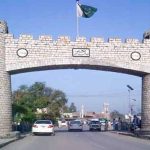 KARACHI: Zilhajj moon was not sighted in the country on Friday. The last month of the Islamic calendar shall begin from September 4 ( whereas the religious festival of Eid-ul-Azha shall be celebrated in the country on Tuesday, September 13.
Meeting of the Ruet-e-Hilal Committee underwent in Karachi under the leadership of Mufti Muneeb-ur-Rehman. While addressing a press conference at the conclusion of the meeting, he stated that the moon indicating the start of the twelfth Islamic month of Zilhajj was not sighted in the country as the weather in many parts of Pakistan was overcast. He added that it was decided in unanimity that Zilhajj shall begin in Pakistan on Sunday, September 4.
Earlier, Saudi council also stated that no testimony regarding the sighting of moon was received from any part of the country and therefore Eid in the kingdom will be celebrated on September 12 whereas the first day of Arafat will be observed on September 11.