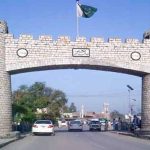 HYDERABAD: The former Union Council Qasimabad's Nazim and a close aide of former Home Minister Dr Zulfiqar Mirza has been arrested here Wednesday.
The CIA's In-charge Aslam Langha while confirming the arrest said that political worker Mehboob Abro was booked in an FIR number 43/2016 at PS Qasimabad charged with seeking extortion.
He said that CIA would obtain physical remand of the suspect for further interrogation.
Meanwhile, Abro's supporters and family members claimed that his arrest was politically motivated because of his close association with the former PPP leader Dr Mirza who swept local bodies polls against the PPP in Badin last year. …APP