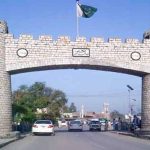 MULTAN: Twelve doctors and six nurses have tested positive for coronavirus at Nishtar Medical Hospital, a senior official at Multan's biggest health facility said on Sunday.
Vice-Chancellor Nishtar Medical University Dr Mustafa Kamal Pasha said the paramedics were exposed to the virus while treating a patient.
"The staff had been treating a patient who had a lung disease. After the patient died his test came back positive for the virus. We conducted tests of everyone in the ward after the patient passed away," he added.
While the government says it is making all efforts to ensure the availability of personal protective equipment (PPEs) for the paramedics treating the coronavirus patients, doctors across the country have complained of the shortage of protective gear as the number of cases rise above 5,000.
Two doctors have died after contracting the virus during treatment of COVID-19 patients with many more affected due to shortage protective gear.
Earlier this month, doctors in Balochistan went on strike against the shortage of PPEs and resumed work after assurances from the authorities.
Army Chief General Qamar Bajwa ordered military officials to dispatch emergency medical supplies to Quetta to meet the requirement.