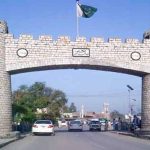 QUETTA: At least thirteen people including women and children were burnt to death after a passenger bus on Friday collided with a oil loaded pickup at Qila Saifullah Road, Quetta.
Receiving information about the incident, police personnel and teams arrived at the scene and rescued the victims. The security officers said that the fire broke out in the vehicle carrying diesel for smuggling near Kan Mehtarzai.
The rescue teams reached the spot and moved bodies and injured to a nearby hospiotal. Deputy Commissioner Dr Atiqul Rehman has confirmed the deaths. He said no one survived the accident. The bodies have been sent to Quetta hospital for identification process by DNA test.