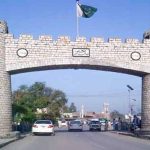 QUETTA: Frontier Corps conducted overnight search operations in different Balochistan areas including Kalat, Panjgur and Kohlu and wiped out 14 terrorists and arrested eight others. Two FC personnel were wounded in the exchange of gunfire.
An IED and ammunition in large number were recovered during the raids.
According to the FC spokesman, the personnel of security force undertook a search operation on intelligence regarding the presence of terrorists hailing from banned outfit in Kalat area of Habboi.
During the operation, exchange of gunfire took place with the militants that left nine of them dead. Also, two FC men sustained injuries in the operation.
Similarly, four terrorists were gunned down in another operation in Panjgur area of Paroom. According to the FC spokesman, the decedents include commander Aslam Jingo of outlawed Baloch Liberation Front.
The spokesman furthermore informed that three Kalashnikovs and a pistol were recovered from the terrorists.
Meantime, an extremist hailing from a banned organization was shot to death in an operation in Kohlu area of Bori.
In another security forces action in Turbat area of Rodban, six terrorists including the commander of outlawed outfit were rounded up. Four Kalashnikovs, a sniper, a light machine gun and two IEDs were recovered from the miscreants.
A joint operation by FC and Levies was launched in Bolan area of Sani where a terrorist was arrested and firearms including a rocket-launcher, five rocket mortars, a Kalashnikov, five rifles and hundreds of rounds.