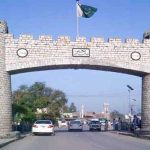 SKARDU: The four-day anti-polio campaign could not start in Gilgit-Baltistan on Monday as about 1600 workers boycott the campaign due to dispute over pension and other incentives.
According to Polio Workers Association for GB Vice President Mohammad Abbas said on Monday. The campaign was set to start today but due to boycott of the workers, the campaign could not kick off in ten districts of the Gilgit-Baltistan. Ninety nine per cent of the 1,600 polio workers were female.
He said that as their negotiations with officials, but therefore they announced boycott of the campaign.