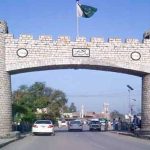 PESHAWAR: The 17 people including students, children and old age, who were abducted from Landikotal six months ago, were recovered from Afghanistan and have reached their homes.
According to reports, the 17 people were kidnapped from their hometown in Khyber Pakhtunkhwa. All the kidnapped persons have reached their homes in Pakistan after they were recovered from Afghanistan.
The administration of Landikotal confirmed that all persons successfully reached their homes after six months. The recovered people include students, children and the old.
According to sources, the kidnapped persons were recovered after joint help from polytechnic administration, law enforcement agencies and Jirga leaders.
These abducted persons had been moved to Afghanistan.
Afghanistan based Pakistani Taliban abducted eighteen tribesmen from a hilly area close to Afghan border on September 4 last year and shifted them across the border in Afghanistan. The tribesmen had gone to the area for picnic and also for cleaning a natural spring which provided drinking water to their houses.
One of the abducted man succeeded in fleeing from the captivity of Taliban the same day they were abducted and informed the tribal elders and Shinwari tribes of the abduction of 17 tribesmen.
However, Niaz Muahmmad declined to share details of exact location where the administration received kidnapped men after their release by Taliban. "We will share all the details on Saturday (today)", he said.
Jamatul Ahrar, a splinter group of Tehrik-e-Taliban Pakistan, which is operating from Nangrahar province of Afghanistan later claimed responsibility of the abduction and demanded a huge amount as ransom.
Several rounds of talks were held between militants and the relatives of abducted tribesmen, but, the former refused to abductees without payment of ransom.
However, it could not be ascertained wether the tribesmen were released against payment of ransom or without any deal.
They were identified as Ajmal, Kamran, Rahatullah, Wasif, Shafiullah, Abdullah, Abdul Wahid,Ayazullah,Bismillah, Abu Bakar,Hazrat Noor, Naik Noor, Ayub Khan, Muslim Shah, Zahirullah, Bashir and Ikram Saeed.