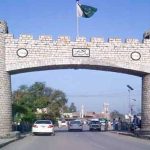 PESHAWAR: In an incident that can put humanity to shame, a minor girl whose mutilated dead body was found the day after her abduction in Charsadda, has been confirmed on Wednesday to have suffered sexual abuse, Khyber News reported.
The two-and-a-half-year-old Zainab was reportedly abducted day before yesterday from her hometown Charsadda however her body was found in the fields of Peshawar a day into the abduction according to the police. As per the reports, her corpse was mutilated and her chest and abdomen were slit open. The medical authorities confirmed that the minor Zainab was inflicted with sexual abuse and molestation.
The police sent the DNA samples over to Khyber Medical College of Peshawar which confirmed that Zainab was inflicted with sexual abuse 18 hours before the body was found.