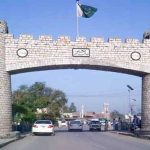 RAWALPINDI: At least three troops were martyed and seven others injured in a suicide attack on security forces in Swat on Saturday, ISPR said.
The ISPR said that the suicide attack was carried out during a sports unit of the Pakistan army in Kabal Tehsil of the Swat district. The ISPR said that three soldiers were martyred and seven others injured in the attack. The dead and injured were shifted to hospital.
According to earlier reports, the blast occurred in Sharifabad area of Kabal tehsil. Injured were shifted to Saidu Sharif hospital.
The security forces cordoned off the area.
Meanwhile, Prime Minister Shahid Khaqan Abbasi  strongly condemned the suicide attack in Swat.
In a statement on Saturday, he prayed for the martyrs and early recovery of injured. He also commiserated with the bereaved families.
He said that the coward enemy cannot fight with our valiant soldiers and such cowardly acts cannot deter our resolve for the elimination of terrorism from the country.
The Prime Minister said war against terrorism will continue till the elimination of the last terrorist from the country.