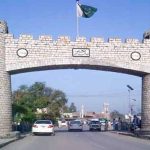 ISLAMABAD: Islamabad police Tuesday conducted search operation in rural belt of Nilore following National Action Plan and nabbed three suspects besides recovering a huge cache of weapons from them, a police spokesman said.
Following directions of Minister for Interior, Chaudhr Nisar Ali Khan, officers/officials of Islamabad Police, Pak Rangers and other security agencies conducted search operation in various areas of Nilore including Tamair, Jasoot, Mawa village and its adjacent areas. Under supervision of Superintendent of Police (Rural) Syed Mustafa Tanveer, Deputy Superintendent of Police Chaudhry Abdul Majeed, Station House Officer (SHO) Nilore Police Station Inspector Fayyaz Tanoli joined this search operation while police commandos, lady commandos and staff of Bomb Disposal Squad also participated in it.
They checked 350 houses, searched 480 persons on the spot and nabbed two suspects during it. A huge cache of weapons including five SMGs Gun, seven guns 12 bore , three Pistol 30 bore, One 8MM rifle, one 9MM pistol along with 381 rounds were also recovered.