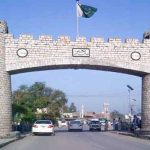 ISLAMABAD: Fire erupted at Sunday Bazaar situated in Peshawar Mor area of Islamabad in the early hours of Tuesday and gutted more than 300 stalls.
According to the reports, the fire spread very quickly and engulfed more than 300 stalls. The rescue officials and 10 fire brigade vehicles reached the spot and started rescue operation.
Pakistan Navy also reached the spot and started assistance in rescue operation. The rescue sources said that that fire erupted at the landa bazaar area of Sunday Bazaar due to short in circuit.
The fire has been controlled by the rescue officials and cooling process is underway.
Earlier on October 13, paper and paperboard worth millions of rupees were gutted after a factory caught fire on Hafizabad Road in Gujranwala.
At least six fire tenders of Rescue 1122 responded to the spot for fire-fighting.
According to the rescuers the fire erupted in the manufacturing unit when temperature arose in one of the running machines.
No loss of life or injury was reported in the blaze that was brought under control by firefighters after hectic efforts of five hours.
The cooling process was in progress till the filing of the report. According to the rescuers the fire stretched the majority parts of the manufacturing unit the loss could be in millions.