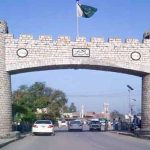 PESHAWAR: Federal Interior Ministry has declared 31 educational institutions in Khyber Pakhtunkhwa (KP) as 'sensitive' due to security considerations.
Interior Ministry has declared 16 universities and 15 colleges in the province sensitive due to security considerations, sources said. These institutions include Women University as well. The ministry has forwarded a list of the institutions to KP government and the law enforcement agencies.
It is pertinent here to mention that security condition in country is at alarming situation at the moment as two blasts have been carried out in Lahore and Quetta in less than past 24 hours claiming at least 16 lives.
The terrorists had targeted Army Public School (APS) Peshawar in biggest terror attack of the country on 16th December 2014 in which at least 142 people, mostly school children died.
The educational institutions in Peshawar remained closed for several days following the tragedy.
The federal government and security agencies had formulated a National Action Plan (NAP) against terrorism and Operation Zarb-e-Azb was launched against terrorists in the tribal areas after the attack.
Military courts were formed shortly after the attack whereas the government lifted moratorium on death sentence in the country after the attack as a mean to fight against terrorism.