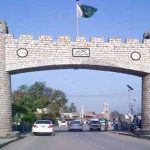 PESHAWAR: A continuous increase has been seen in dengue patients as one more doctor at Peshawar's Khyber Teaching Hospital has diagnosed with the disease today (Thursday).
According to details, three doctors and 3,900 other patients are under treatment at various hospitals in the province.
Anti-dengue campaign was also launched in the area but no significant results were taken. Keeping in view the current dengue outbreak, ministers have geared up and have started preparing further strategies in this regard.
There is no treatment for dengue, which causes symptoms including fever, severe joint pain, headaches and bleeding.
About half the world's population is at risk from the mosquito-borne disease, which sickens about 100 million people every year, mostly in Asia, Africa and Latin America.
People have been advised to use mosquito nets and insect repellents and to avoid storing water in open pots where the larvae can breed.