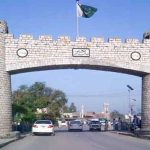 ISLAMABAD: An earthquake of 5.5 magnitude jolted numerous cities in the country's north-eastern region early Monday morning.
According to media reports, no reports of any casualties have surfaced, however, many people fled their houses after feeling the earthquake jolts.
Citizens in Lahore, Islamabad, Peshawar, and surrounding areas in Punjab and Khyber Pakhtunkhwa (KP) felt the tremors around 4:30 AM local time, right after Fajr prayers.
The earthquake, which was recorded as 5.5 in terms of magnitude on the Richter Scale as per the Pakistan Meteorological Department (PMD), had its epicentre in one of the peaks in the Hindukush mountain range, 50 kilometres from Jurm, Badakhshan, Afghanistan, with a depth of over 250 kilometres.
People in Nowshera, Mardan, and Dir also felt the tremors in the wee hours of the morning.