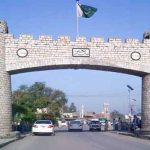 ISLAMABAD: Advocate-General of Khyber Pakhtunkhwa on Wednesday informed the Supreme Court that 53 of the total 57 suspects in the Mashal Khan lynching case have been arrested so far, adding that the prime suspect, identified as Imran, in Mashal's murder had also confessed to his crime.
The Joint-Investigation Team (JIT) provided a new report to the three-member Supreme Court bench, which is headed by Chief Justice of Pakistan Saqib Nisar, during case hearing on Wednesday.
According to the report, the video of Mashal Khan's murder has been sent to the laboratory. Once the laboratory's report releases, then the final charge-sheet will be presented before the court, stated the report.
Final charge-sheet will be presented in two weeks, he said, adding that a temporary charge-sheet has been presented in trial court. Upon which, CJP asked if trial court can give a verdict on temporary charge-sheet.
CJP instructed the JIT to complete all requirements of the case.
Speaking to Mashal Khan's father, CJP said, "We are equally affected by your loss," adding that it was compulsory for the court to ensure that the family gets justice.
The case hearing was adjourned for three weeks.
Talking to media outside supreme court, Mashal Khan's father Muhammad Iqbal Khan demanded security for his daughters.
Iqbal Khan and the family's lawyer demanded that the case be transferred to Islamabad for the protection of Mashal's sisters.
Mashal's sisters cannot continue their education due to danger to their lives, said the family's lawyer. Iqbal Khan also expressed the desire to have his daughters continue their education in Islamabad instead.
The father of the slain student also remarked that Abdul Wali Khan University Mardan should be opened and that students should be given the right to continue their education. There should be no roadblocks in the way of students' education and the students should also be provided with security, he said.