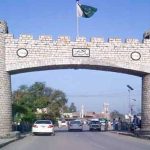 ISLAMABAD: President Mamnoon Hussain has appointed Justice (Retd) Saeed-uz-Zaman Siddiqui the new governor for Sindh putting an end to a 13-year-long rule of the former governor Dr Ishrat ul Ebad.
A notification issued from presidency stated that Saeed-uz-Zaman will be the new governor Sindh. President Mamnoon Hussain on the advise of Prime Minister Nawaz Sharif has appointed Saeed-uz-Zaman as the new governor Sindh.
Zaman has also remained the Chief Justice of Pakistan. During the former dictator General (R) Pervez Musharraf's rule, Zaman had refused to take oath under the Provisional Constitutional Order (PCO).
In 2008, he was presidential candidate from Pakistan Muslim League-Nawaz.
The current governor Dr Ishrat ul Ebad has stirred controversy after former Karachi mayor and Pak Sarzameen Party chief Mustafa Kamal hurled corruption allegations at him. Calling him 'Rishwat ul Ebad' in a fiery press talk on October 17, he demanded that he should be placed on the Exit Control List.