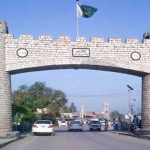 ISLAMABAD: State Minister for Parliamentary Affairs Ali Muhammad Khan on Friday informed the Senate that a total of 7410 Overseas Pakistanis are participating in the upcoming by-elections on October 14.
He stated this while responding to a Calling Attention Notice regarding the observations reported by the working group set up by the Election Commission of Pakistan to study different options of giving voting rights to the overseas Pakistanis.
The State Minister said that by-election is going to be held in 36 constituencies of which 20 are from the Punjab, 10 from Khyber Pakhtunkhwa, three from Sindh , two in Balochistan and one in Federal Capital.
He said that 405 candidates are in the run during this by-election while 7410 Overseas Pakistanis are participating in the by-election in 36 constituencies which would not impact a lot on the overall process.
He said that 6191 Overseas voters are male and remaining 1319 are female. This chance is being given at smaller scale in by-elections which would be expanded after success, he maintained.