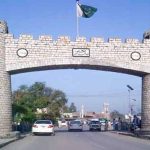 ISLAMABAD: Chief Justice of Pakistan Justice Mian Saqib Nisar on Thursday took suo motu notice of rape of 16-year old girl in Multan on Panchayat order in Muzaffarabad locality of Multan.
The Supreme Court chief justice directed the Punjab inspector general of police to submit a report in this regard.
Also on Thursday, police claimed to have arrested all the main accused in the case.
A horrific incident took place in Multan's Muzaffarabad locality when members of a panchayat (council of elders) ordered the rape of a 16-year-old girl as punishment for a rape allegedly committed by her brother.
According to local police, a man had complained to the panchayat that his 12-year-old sister had been raped by their cousin. The panchayat then ordered the complainant to rape the 16-year-old sister of the accused in revenge.
"A jirga had ordered the rape of a 16-year-old girl as punishment, as her brother had raped a 12-year-old," said Allah Baksh, a local police official, while talking to foreign news agency.
Police, upon hearing of the incident, arrested 10 members of the panchayat, including its head.
In the following days, police were able to nab all main accused, said to be around 20.
SHO Muzaffarabad Malik Rashid said the First Information Report (FIR) for both cases had been registered at the women crisis centre. The SHO also questioned the authority of the panchayat for 'ordering such a crime'.
Punjab Chief Minister Shehbaz Sharif also took notice of the incident and sought a report from the Multan city police officer (CPO).
"When the first FIR was lodged and investigated we came to know that there was more to the case which was being hidden. When we investigated further and chased the accused during the last 2-3 days, the entire incident was unearthed," said the CPO.
Panchayat's consist of local elders and are a traditional means of settling disputes in Pakistan's rural areas, where courts and lawyers are not always accessible or trusted.