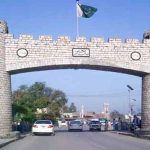 KARACHI: At least 97 were killed and dozens others wounded after a Pakistan International Airlines (PIA) plane crashed with nearly 100 people on board in Karachi on Friday, according to Spokesperson for the Sindh Health Department, with several more feared dead.
The Pakistan International Airlines (PIA) plane was close to landing when it came down among houses, sparking an explosion and killing several people on the ground.
The national carrier s flight PK-8303 took off from Lahore Allama Iqbal International Airport and crashed in Model Colony area in Malir, approximately 4 kilometers away from the airport.
The plane came to rest about 2:39pm in a narrow alley in the poor and congested residential area known as Model Colony between houses smashed by its wings. Police in protective masks struggled to clear away crowds amid the smoke and dust so ambulances and firetrucks could reach the crash site.
As darkness fell, crews worked under floodlights to recover bodies and a portable morgue was set up. Two passengers miraculously survived, said Meeran Yousaf, Sindh provincial Health Department spokeswoman.
Images aired on television showed the Pakistan International Airlines flight had smashed into a residential area, with clouds of thick black smoke billowing from the site.
The bodies of 97 passengers and crew had been recovered, the Sindh Health Ministry said, adding that 19 had been identified.
Army, Rangers and Police units arrived at the scene and emergency was declared at Jinnah Hospital.
PIA spokesperson confirmed the plane crash. He said information is being collected at the moment. Ninety nine passengers and six crew members along with two captains were onboard the plane.
It was an Airbus 320 which has capacity to carry around 180 passengers, however, number of passengers were kept at 50% capacity limit to ensure social distancing measures.
The crash occurred just days after the country began allowing commercial flights to resume after planes were grounded during a lockdown over the coronavirus pandemic.
Pakistan has a chequered aviation safety record, with frequent plane and helicopter crashes over the years.
In 2016, a Pakistan International Airlines plane burst into flames after one of its two turboprop engines failed while flying from the remote northern to Islamabad, killing more than 40 people.
The crash comes as Pakistanis across the country are preparing to celebrate the end of Ramadan and the beginning of Muslim holiday Eid al-Fitr, with many travelling back to their homes in cities and villages.