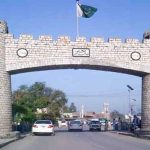 ISLAMABAD: Processions were carried out peacefully across the country on Saturday, Muharram 9, to pay homage to the martyrs of Karbala.
In Karachi, the main procession was taken out from Nishtar Park and culminated at Hussainiya Irania Imambargah, while in Lahore the procession began from Pando Street.
The yearly processions were being taken out from Quetta, Rawalpindi and Peshawar. The main procession in Islamabad started from Asna Ashri Bargah.
The annual Zuljinah processions were also taken out and gatherings were being held across the country.
Strict security measures were in place to prevent any untoward incident from taking place. The mobile and internet services were also suspended in the parts of the country.
In Karachi, police, Rangers, ladies and gents scouts were deployed at the route of the main procession.
Sabeels (stalls for refreshment drinks) were setup as per years old tradition.
In Karachi's Pan Mandi, the 50-year-old tradition of Sabeel was kept alive this time too.
In Multan, a Sabeel of tea and milk was also setup, whereas, the 500-year-old traditional pot Sabeel also attracted throngs of mourners.
Meanwhile in Peshawar and Quetta, for three-days a ban has been placed on pillion-riding.
The metro service will remain suspended in Islamabad and Rawalpindi today and on the 10th of Muharram.
In Lahore, Parachinar, and Thar, mourners donated blood to commemorate the great sacrifices given in the Karbala tragedy.
On Friday, the main mourning procession for the eighth of Muharram was taken out in Karachi, which commenced from the Nishter Park after Zuhr prayers and reached peacefully at Husainian Iranian Kharadar after Maghrib prayers.
The 10th of Muharraum, Youm-e-Ashur, will be observed with great reverence on Sunday.
In order to ensure smooth flow of traffic on the roads of Karachi, traffic police has given an alternate route plan for the public.
Ashura, on the 10th day of the month of Muharram, remembers the martyrdom of Hazrat Hussain Ibn-e-Ali (AS), one of the grandsons of the holy prophet (PBUH) and is marked by large public commemorations by Muslims every year.