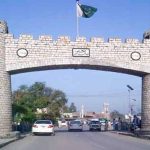 ABBOTTABAD: Fire broke out in Sirban Hill forest near Abbottabad on Thursday night which spread and engulfed a large area very quickly.
Rescue 1122 teams reached the spot after getting information and brought the fire under control after a hectic effort of three hours. The rescue teams faced difficulties during operation to douse the fire due to the mountainous terrain.
According to sources, the blaze reduced dozens of trees into ashes while some wild animals were also killed.