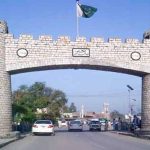 MARDAN: In a major development, police on Thursday arrested a Pakistan Tehrik-e-Insaf (PTI) tehsil councilor, the main accused in Mashal Khan murder case.
DPO Mardan, Dr Mian Saeed said that the absconder in the case for almost a year, was found in Mardan's Chamtar area.
PTI chief Imran Khan lauded KP police for succeeding to arrest the main accused in the Mashal Khan murder case. "This is how a professional and depoliticized police force works, in contrast to the politicized police forces of Punjab and Sindh," Khan said.
An anti-terrorism court in Abbottabad awarded on February 7 death sentence to one and 25-year-prison to five others in the Mashal Khan murder case.