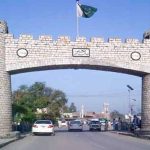 ISLAMABAD: The accountability court ordered on Wednesday to a recorded statement of prosecution's witness part of the supplementary reference against former finance minister Ishaq Dar in a case pertaining to assets beyond his known sources of income.
The accountability court Judge Mohammad Bashir resumed hearing after witness of National Accountability Bureau (NAB) Abdul Rehman Gondal and co-accused appeared in the court.
Judge Mohammad Bashir ordered to make Muhammad Azeem's statement – which has already been recorded – a part of the reference against Ishaq Dar.
During the hearing, another prosecution's witness Abdul Rehman Gondal also recorded his statement in the case.
The co-accused in the case Naeem Mehmood and Mansoor Rizvi also appeared before the court.
The court then adjourned hearing of the case until May 2.