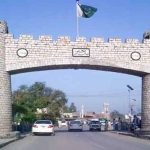 ISLAMABAD: An accountability court began hearing the Al-Azizia Mills and Flagship Investment corruption references against former premier Nawaz Sharif on Monday.
Nawaz was transported from Adiala prison, where he is currently incarcerated following the Avenfield verdict, to the court premises in the federal capital amid tight security.
As the hearing went under way today, Khawaja Haris' assisting lawyer apprised the court that Nawaz's lawyer was busy in the Islamabad High Court, where a petition is fixed for hearing in the division bench today.
Accountability court II Judge Arshad Malik, who was hearing the case, inquired about the commencement time of the IHC hearing. To this, the assisting lawyer responded by saying that the division bench starts hearing cases at 11am.
The accountability court then adjourned the hearing till 12pm.
The Islamabad High Court issued a notice to the National Accountability Bureau for an alteration in the statement of star prosecution witness Wajid Zia, who also headed the Joint Investigation Team (JIT) that probed the Panama Papers case.
A two-member bench of the IHC, comprising Justice Athar Minallah and Justice Miangul Hassan Aurangzeb, resumed hearing Nawaz's petition.
During the hearing, Nawaz's lawyer Khawaja Haris contended that the report was not presented by the former premier or his son Hussain.
Justice Minallah remarked that if the report was presented, it should be a part of the JIT report. He further questioned Haris how the alteration in Zia's statement would impact the case. To this, Nawaz's lawyer responded by saying, "NAB's objection says that the statement could be changed."
The judge then ruled to hear the statement of the anti-graft body. Issuing a notice to the NAB officials to appear before the court on September 4, Justice Minallah adjourned the hearing.