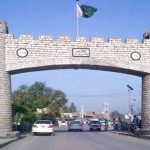 ISLAMABAD: The accountability court on Monday rejected Finance Minister Ishaq Dar's plea for exemption from appearance, and adjourned the hearing of assets beyond means case till 12:00 PM.
The court remarked that it wants the accused to be present during the hearing so that he may not raise any objection regarding the proceedings. The case, which will be heard by judge Muhammad Bashir, has been postponed till noon due to the late arrival of Ishaq Dar's counsel, Khawaja Haris.
On the other hand, the minister has gone back from accountability court due to the adjournment, and will reappear once the proceedings start. It is also worth mentioning here that Ishaq Dar got annoyed over journalist's question that whether he is resigning, and went away without saying anything.
On October 4, first prosecution witness recorded his statement before the accountability court while the second witness recorded his statement pertaining to the case on October 12.
During the previous hearing, the court had asked third prosecution witness Tariq Javed, a private bank officer, to re-appear before the court along with e-mail record pertaining to the case. The court had summoned the fourth witness Masood Ghani to appear today to record his statement.
Dar's lawyer Khawaja Haris will cross-examine both the witnesses.
The accountability court had indicted Dar on September 27. The finance minister had denied all charges that were levelled against him terming them false, and submitted surety bonds worth five million rupees as per directions of the court.