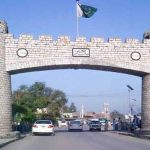 ISLAMABAD: A National Accountability Bureau (NAB) court will start hearing of references against former prime minister Nawaz Sharif and his sons Hussain Nawaz and Hassan Nawaz today (Tuesday).
The NAB court judge Muhammad Bashir will hear the references against the former prime minister and his sons.
The accountability court had summoned Nawaz Sharif, Hussain Nawaz and Hassan Nawaz to appear today in a reference pertaining to the Sharif family s company, Flagship Investment Limited, in the UK.