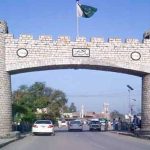 ISLAMABAD: The Islamabad High Court (IHC) on Friday ordered the capital administration to take all necessary actions to remove protesters from Faizabad Interchange after the protesters did not comply with IHC orders of dislodging of the protest sit-in the Interchange.
Hearing a petition filed by a citizen, Justice Shaukat Aziz Siddiqui directed the authorities to vacate the key route from the protesters by 10am Saturday (tomorrow) and to take aid of Frontier Constabulary (FC) and Rangers if needed and clear the site at all costs.
In his orders, Justice Shaukat Aziz Siddiqui categorically remarked to vacate the Faizabad Interchange with or without peaceful means adding that the administration previously failed to exercise its authority to disperse the protesters.
Islamabad Deputy Commissioner retired captain Mushtaq and the deputy inspector general operations were also present in court today wherein DC told the court that the number of protesters was 1,800 to 2,000 which might increase after Friday prayers.
The protesters had gathered rocks to defend themselves, he said, adding that they also possessed 10 to 12 weapons.
He noted that at least three to four hours would be necessary to clear the area.
On Thursday, the court had ordered the protesters to disperse but they ignored the direction and have continued with their demonstration.