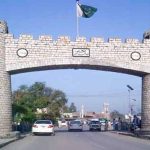 ISLAMABAD: Afghan Ambassador Omar Zakhilwal on Wednesday urged Prime Minister Nawaz Sharif at Economic Cooperation Organisation (ECO) Summit to order the reopening of Pak-Afghan border.
Speaking ECO Summit in Islamabad, Zakhilwal said that it would be the right message if Prime Minister Nawaz Sharif instruct an immediate opening of our formal trade and transit routes between the two brotherly countries, Pakistan and Afghanistan.
The border was closed last month after a series of attacks killed at least 100 people and injured 300 others. The government said armed groups who operate from the Afghan side of the border had claimed responsibility for the attacks. "They have now been closed for about two weeks, without adequate reasons, causing enormous hardship to ordinary people and a lot of damage to traders on both sides," Ambassador Zakhilwal said.
Afghanistan did not participate at the highest level in the ECO Summit amid tensions with Pakistan and assigned its ambassador to represent the country.
"Many of our challenges are shared and require collective actions. In order to unlock our individual potential, we need to reshape our policies that promote peace, stability and trust as core objectives," the ambassador emphasised.
"In addition, they should be aimed at removing existing barriers to trade, transit and greater connectivity and develop our capacities and physical infrastructure," the added.
The ECO Summit is considered to be more important for Pakistan and Afghanistan than other member countries in the context of several projects including the CASA-1000 and the Turkmenistan-Afghanistan-Pakistan-India pipeline projects. Both need to review progress on these important projects on the sidelines of regional and international conferences.
Just a day after India boycotted the SAARC Summit that Pakistan was scheduled to host in Islamabad in November, Afghanistan had also announced it would to stay away. The decision led to the postponement of the summit.
Earlier, Afghanistan had also reduced the participation level in the last meeting of the Quadrilateral Coordination Group (QCG) of Afghanistan, China, Pakistan and the United States in Islamabad in May last year. The QCG process faced a serious setback when a US drone killed Taliban chief Akhtar Mansour just three days after its last meeting.