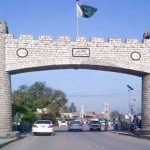 DERA ISMAIL KHAN: Jamiat Ulema Islam-Fazl (JUI-F) leader Maulana Fazlur Rehman on Wednesday stated that Afghans are the brothers of Pakistanis, adding that they should not be pushed into fire as Afghanistan was already burning.
Talking to media after offering Eid-ul-Fitr prayer, Maulana Fazl stated that goals of the Opposition parties' movement against the government were unclear. He said that the people of Afghanistan served Pakistanis for thirty years.
Answering a question regarding the allocation of Rs 300 million to Darul Uloom Haqqania by Pakistan Tehreek-e-Insaf (PTI) provincial government in Khyber Pakhtunkhwa (KP), Maulana Fazl said that the very madrassa was a member of the Wifaq-ul-Madaris adding that the particular organisation be enquired about the allocation of funds.
He added that his party shall announce its strategy regarding the investigation of the Panama Leaks issue after the Opposition parties make it clear about what they are aiming for.
He said that the circumstances of the country will improve in a few days' time after the return of Prime Minister (PM) Nawaz Sharif.