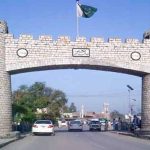 ISLAMABAD: Assistant General Manager AVT Channels, Kaiwan Hamid Raja on Tuesday visited the provincial information office at the Khyber Pakhtunkhwa House in Islamabad and met with the Regional Information Officer Syed Bilawal Hussain.
During the meeting, both the dignities discussed ways to promote Khyber Pakhtunkhwa's culture and regional languages along with promotion of tourism sector of the province.
RIO Syed Bilawal Hussain lauded the role and services of Khyber News and Kay2 TV channel for the promotion of Khyber Pakhtunkhwa's culture, tourism and local languages.