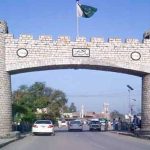 ISLAMABAD: Interior Minister Ahsan Iqbal has on Wednesday said that Pakistan wanted peace and stability in Afghanistan.
Addressing a ceremony at Police Lines in Islamabad on Wednesday, the Minister said it amounted to making mockery of sacrifices of Pakistan in the war against terror.
He was referring to the United States President Donald Trump's tweet.
The Interior Minister said Pakistan is still struggling to cope with the consequences of US policies in the region.
He said the United States policies are to be blamed for radicalization, proliferation of weapons and drugs, terrorism, extremism and poverty in the region.
He said Pakistan is the biggest stakeholder of peace in Afghanistan and wants elimination of terrorism from that country.
He questioned as to what the United States has done for Pakistan-based millions of Afghan refugees.
Interior Minister Ahsan Iqbal has directed for issuance of official passports to members of the Provincial Assemblies, Chairmen of District Councils and Mayors of Metropolitan Corporations.
The matter had been pending since long despite resolutions of the provincial assemblies in this regard.