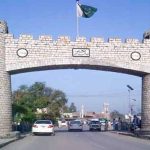 PESHAWAR: Aimal Khan on Wednesday has challenged in Peshawar High Court (PHC) the decision of an anti-terrorism court acquitting 26 people in the murder case of his brother, Mashal Khan.
Aimal Khan requested the court all the suspects accused of lynching his brother should be given capital punishment.
He stated that the acquitted people confessed to killing Mashal Khan in a video right after the anti-terrorism court exonerated them of charges.
Aimal added that a total of five appeals would be filed in the case step-by-step.
Mashal Khan – a student of Journalism and Mass Communication at Abdul Wali Khan University Mardan (AWKUM) was tortured and shot to death by a charged mob on April 13, 2017 for alleged blasphemy.
An anti-terrorism court in Haripur on Feb 7 sentenced one person Imran Ali to death, and handed jail sentences to 30 people while acquitting 26 others.