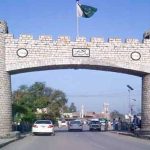 PESHAWAR: Provincial president of Awami National Party (ANP) Aimal Wali Khan has said that the former prime minister Imran Khan, President Arif Alvi, former chief minister Mehmood Khan and all those who had held peace talks with the Taliban are responsible for the surge in terror attacks in Khyber Pakhtunkhwa.
He was addressing a press conference at Bacha Khan Markaz on Thursday.  He said, "we  hold those, who were calling rebellion as jehad and selling the Pakhtun nation for the last 70 years, responsible for the bloodshed in the province". Besides Imran Khan, Arif Alvi and Mehmood Khan, Faiz Hamid, Barrister Saif, the friend of Musharraf,  who had held talks with the Taliban, were was also responsible for the current situation in the province, he added.
Aimal Wali Khan said that the Khyber Pakhtunkhwa was given for ten years to those people, who came to power with the support of the banned TTP, adding that how could they think that the sellers of the Pakhtun nation would get two-third majority in next elections.
The ANP provincial president said, "we are tired of picking up dead bodies for the last fifty years".  "I have visited the homes of 18 martyrs in Charsadda and met two years old orphans," he said, adding that people were asking that why such incidents were not occurring in Punjab. He said that the people were saying that when such incidents occur  in Punjab, then they would realize the gravity of the situation.
"We are not so coward that we would play with the lives of the nation for elections", he said, adding that elections were a constitutional process. He maintained that politics on people blood should be avoided. He invited the Pakhtun nation to 'Pasoon' on April 4, saying that the people belonging to any party should participate in 'Pasoon'