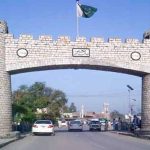 MUZAFFARABAD: Azad Jammu and Kashmir Prime Minister Raja Farooq Haider Sunday said the helicopter he was travelling on never trespassed through India's airspace.
Haider was travelling to offer condolences on the demise of an acquaintance when his white civil helicopter was shot at from an Indian checkpost.
It is mandatory for Pakistan and India to inform each other beforehand the movement of military aircrafts. The procedure, however, is not a prerequisite for the movement of civil helicopters.
The AJK premier said India overplayed the incident as the helicopter remained atop Pakistan's airspace the whole time.
"It wasn't a gunship but a private helicopter carrying me and my ministers and India created a drama out of it," he said.
"India is in a state of panic. We do not want war hysteria in the region," he added.
India last week called off the meeting between the nuclear-armed neighbours' foreign ministers, planned for the sidelines of the UN General Assembly.
Prime Minister Imran Khan labelled India arrogant for cancelling what would have been the countries' first high-level talks in years, decrying "small men occupying big offices" who opposed change.
"Disappointed at the arrogant and negative response by India to my call for resumption of the peace dialogue," Imran Khan wrote on his official account.
"However, all my life I have come across small men occupying big offices who do not have the vision to see the larger picture."
And at the UN General Assembly session, Foreign Minister Shah Mehmood Qureshi lambasted India for gross human rights violations in Indian occupied Kashmir.
Qureshi said the recent report of United Nations had removed veil from "appalling crimes" of India in Kashmir and supported Pakistan's stance that violence was in no way solution to any problem.
"[Pakistan's] Eastern neighbour [India] is sponsoring terrorism. Pakistan will never forget martyrs of APS and Mastung," he added.
He stated that India resorted to unprovoked firing along the Line of Control in its bid to divert attention of international community from the atrocities in the violence-hit Kashmir valley.